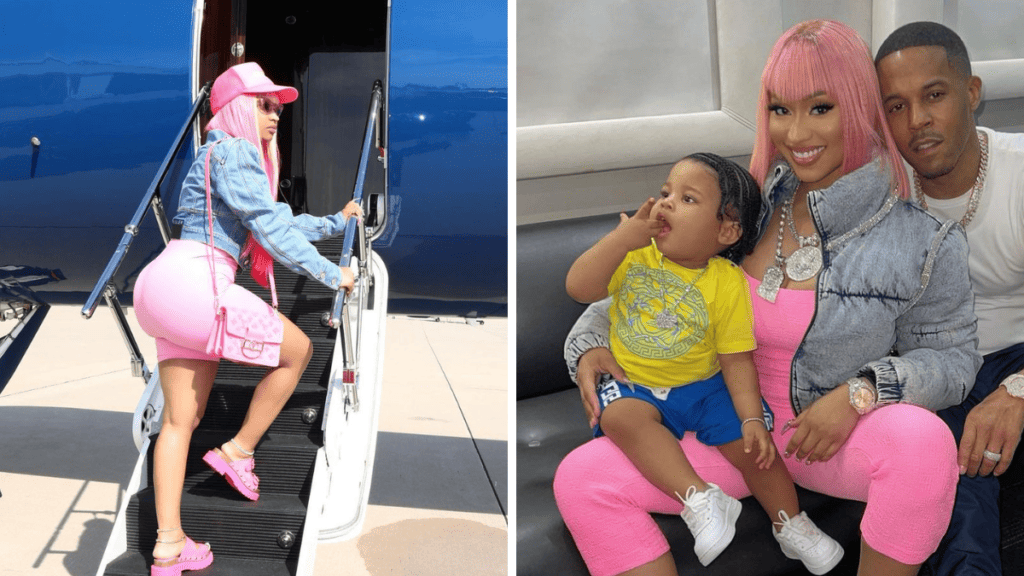 Nicki Minaj revealed how she really feels about her past cosmetic procedures — she regrets them.
"I guarantee you, if you change anything on your body and do anything surgical and all this, you're going to more than likely, not definitely, more than likely look back one day and say, 'I was fine just the way I was," said the rapper on "The Run-Through with Vogue" podcast. "And that's what happened to me."
Becoming a Mom Changed Nicki's Outlook on Her Body
Nicki shared that she used to think her body wasn't good enough. She felt the need to change all the things she didn't like about herself. But that all changed after the birth of her son, who is known by the nickname Papa Bear.
Before becoming a mom, Nicki confessed that she used to avoid looking at old photos of herself because they made her feel bad and she didn't like the way she looked in them. She thought her body looked too skinny, so she had cosmetic procedures in an attempt to feel more beautiful.
Seeing her son changed her outlook: "Seeing my son did remind me of myself so much. My real self. And it made me think, 'Why didn't I like this?' So weird," she said. After the birth of her son, Nicki started looking at her old pictures again and realized that she found herself beautiful in them and "fine the way she was." Last June, she confirmed that she had a breast reduction.
Balancing Motherhood and Music Has Been a Challenge
The rapper is on the cover of the December issue of Vogue ahead of the release of her Pink Friday 2 album. Besides her comments about plastic surgery, she also opened up about motherhood. She said that it's been a struggle trying to be an artist and a mother at the same time. Her son turned three on September 30, and it has been five years since she last released an album.
 "I think that deep down inside, I believed that once I had a family, I would just lose the desire to make music," she told Vogue. "I would always tell people, 'Watch, when I have a child I'm going to cook every meal for him and bake cookies every day.' Maybe subconsciously I hoped my focus would just be on being a mother, and I looked forward to that idea. It felt like a relief. But what happens is that you find out you have to work."
An Anticipated Album Release
Nicki recently shared her enthusiasm about her new album on Instagram Live. "This entire album will be the biggest gift I've ever given humanity thus far," she said. "I can stand by that. I will bet any amount of money that Pink Friday 2, the album, is going to make people fall in love immediately." She also told fans to expect a different type of tour from her.
"In addition to it being, of course, a whole new album, the approach to the tour will be very different and the feel of the tour will be very different. We still gon' cover all the ground that is required to cover in order for y'all to know that you f******g with the best, but it won't remind you of another tour," she added.
Tour dates have not been announced yet.