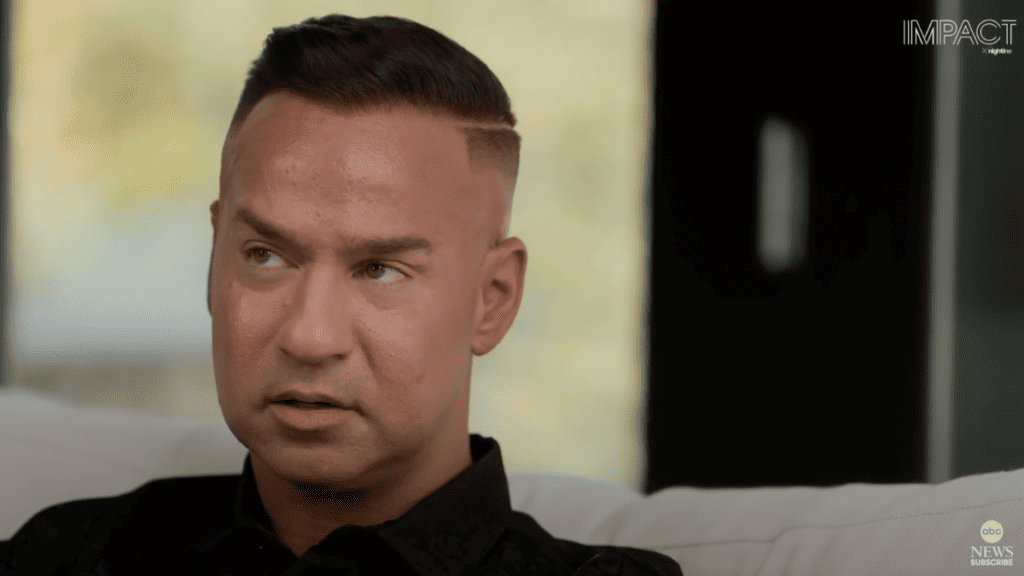 Mike "The Situation" Sorrentino opened up about the moment his mom and wife saved him from going down a dark path. 
The Jersey Shore star discussed his struggle with addiction and recovery journey in an exclusive interview with ABC's Stephanie Ramos on Impact x Nightline. "I was in a really bad place," he said. "I was broke. I was unemployed. I was months behind on my rent." 
A 'Come to God Moment'
Mike described coming home one day with something stronger than the prescription painkillers he would usually take — heroin. "I told myself, 'Maybe I'll just try it," he recalled. He locked his door and told his wife Lauren that he was going to sleep for the night and wanted to be left alone.  
Then, his phone rang. It was his mother. "Are you okay?" she asked. Mike said, "I'm fine mom, why?" 
"I feel like something's wrong," she answered. Mike described this phone call as a "come to god moment." He added that as soon as he stopped what he was about to do and hung up, he heard a knock on the door. It was Lauren. "My wife was knocking on the door. So this is a very emotional moment for me. They saved me," he told ABC. 
Grateful for How Far He's Come
Mike has been very open about his sobriety journey. Back in January, he spoke to TooFab about being nearly eight years sober and reuniting with his castmates on TV for "Jersey Shore Family Vacation." 
"I love it," he told TooFab. "Because for so long people had forecasted that I wasn't going to be any good on TV or I wasn't going to be able to be funny or I wouldn't be able to last being sober."
"Now going into my eighth year, I think the product that MTV gets and the fans get is the best version of The Situation," he added. 
"I'm funnier and I have more lines and I'm more authentic. I love that fact that I'm the voice of reason and I have all my wits about me to be able to navigate this madness that is 'Jersey Shore.'"
Mike has also been committed to helping others on a recovery journey. In 2019, he and his wife partnered with Banyan Treatment Centers to raise awareness about addiction. "Also, we want to shed light on the fact that there are positive stories out there — we do recover," he told PEOPLE. "Most importantly, the comeback is truly greater than the setback." 
Mike also shared with PEOPLE that he is grateful for how far he's come since his partying days in his twenties and thirties. At 41, he is now focused on his family. He and Lauren have two kids together: Romeo, who is two, and Mia, who is 9 months old. 
In September 2023, the couple announced that they're expecting baby No. 3.